Get Involved with Bordentown City's Green Team
Please consider joining now!
Green Team membership is always open to new members and does not require an application; please contact us at bordentowncitygreenteam@gmail.com if you're interested in becoming a member. 
The Green Team meets the second Wednesday of each month as part of the regular meeting of the Environmental Commission at the Carslake Community Center's Senior's Room @ 7 PM.
Everyone is Welcome!
Via Zoom During the Pandemic
For a link to the next meeting, send an email request to
info@bcec.cityofbordentown.com
---
Follow us on Social Media
for real time updates on events and plans!
(Click on the Links below)
---
The Green Team is dedicated to creating a more sustainable Bordentown City. It is a very active committee of the Bordentown City Environmental Commission. The Green Team is strictly composed of volunteers who educate residents and businesses about the benefits of sustainability. Come check us out! We can always use more help!
— Cathy Elliott-Shaw, Co-chair

~
 Ongoing Green Team Initiatives:
Educational Workshops & Earth Talks
Check the calendar for what's happening in the coming months
~
Bordentown City's 1st Ever Organic Community Garden
We're very excited to announce that we're taking applications for this year's Bordentown City's Community Garden! Our Community Garden is located between East Union Street and East Burlington Street behind the Mt. Zion Church, next to the baseball field.
Read more about how you can get involved in the garden here…
Plots are still available.
Email us today –  remaxine@aol.com

~
 13th Annual Bordentown City Green Fair

Saturday June 11th, 10am – 3pm
A FREE Event, Rain or Shine!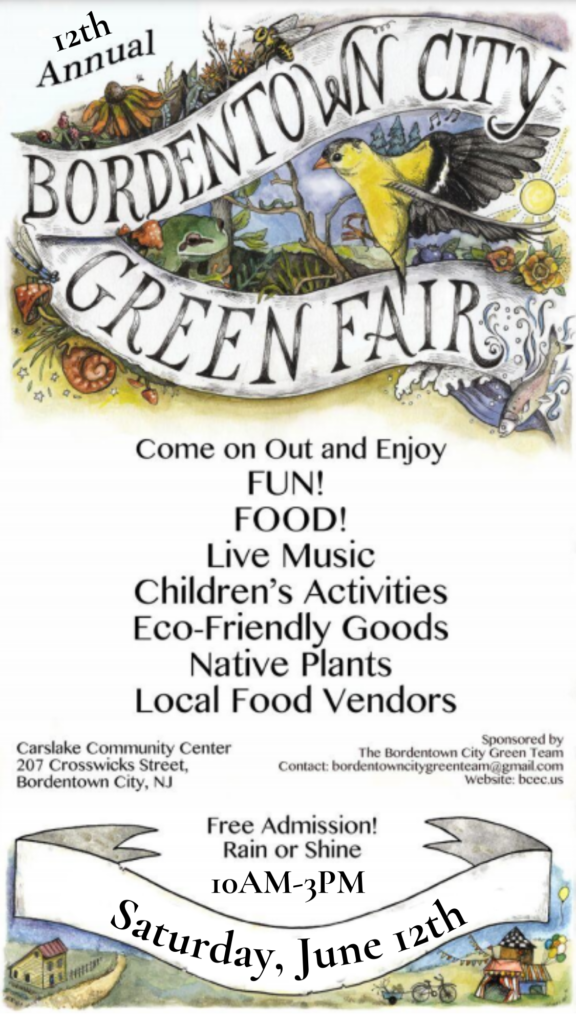 The Bordentown City Green Fair will return to the historic Burlington County town for the 12th straight year with more than lots of vendors and exhibits designed to educate and encourage people of all ages to adopt a more sustainable and eco-friendly lifestyle.  The Green Fair is a free event and will take place rain or shine on Saturday, June 12th, from 10 am to 3 pm at the Carslake Community Center, 207 Crosswicks Street, Bordentown City (accessible via the Bordentown RiverLINE station).
For more information and the full list of vendors – click here
~
 Bordentown City's Weekly Farmers' Market

Featuring fresh, locally grown produce, food products, crafts and more.
Every Sunday from June 5th thru September 2022
9 am – 1 pm
Carslake Community Center
207 Crosswicks St., Bordentown City
Check out the latest Farmers' Market info on Facebook & Instagram
~
 Some Green Team Achievements:
Annual Green Fair (Details above!)
Identifying Anti-idling Zones
Clara Barton School Garden
Community paper shredding event
Creative Team (a subcommittee)
Contact Us:
For questions or information on how to get involved on the Green Team, email us at: bordentowncitygreenteam@gmail.com